Mobile World Congress 2016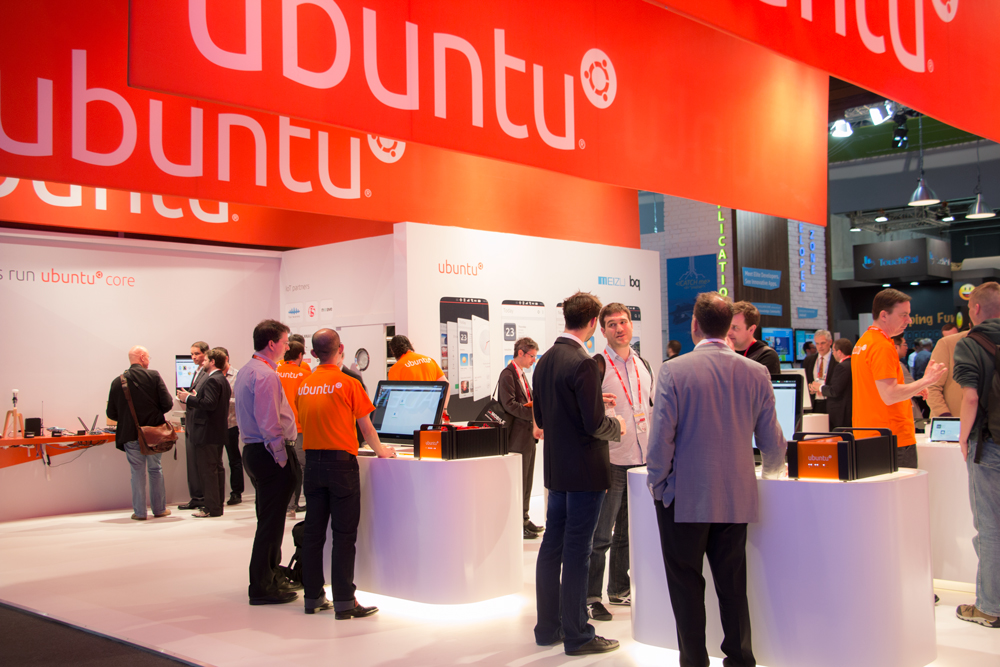 Mobile World Congress (MWC) is the world's largest annual gathering for the mobile industry, held in Barcelona, Spain. This year, the Ubuntu presence will be bigger than ever.
Drop by our stand, in Hall 3 – 3J30 to see our NFV, Openstack, IOT and Phone demos or book a meeting with our executive team.
OpenStack & NFV Demos
Whether you're a telecoms provider launching a public cloud for your customers, building a private cloud for internal use, or planning an overhaul of your networking infrastructure via technologies like SDN and NFV, OpenStack has become the defacto standard for building cloud infrastructure worldwide. Ubuntu has been a cornerstone of the OpenStack project since the beginning and now offers you the fastest, easiest and best-supported route to an OpenStack cloud, with more than half the world's OpenStack deployments now built on Ubuntu. At MWC this year we'll be running the following demos:
| | |
| --- | --- |
| Demo name | Details |
| OpenStack Autopilot | See OpenStack automatically deployed, including networking and storage options like Ceph. Watch OpenStack Autopilot use machine learning to intelligently deploy services across available nodes. |
| Big Software on OpenStack, Horizon + Juju | Big software is here. Come get a glimpse of the new era of tools for configuring and deploying hundreds of related microservices in an automated, scale-out fashion. |
| Cloud density with LXD | Increase microservices density in your OpenStack cloud by up to 10x. LXD machine containers are instances with VM versatility at container speed and agility. |
| SDN Automation | 4 SDN demos showing how you can easily evaluate, deploy and manage any SDN solution. We'll be working with our partners Juniper, Metaswitch, OpenDaylight and Plumgrid to show the power and flexibility of the tooling. |
| Big Data quick deployment | Managing and manipulating big data isn't a big problem with bundles of software that are immediately deployable and user-customisable. |
| Big Data | Machine and Deep Learning are important steps in the next phase of intelligent computing. See a demo of the technology in action while we explain how we do it. |
| Cloud Benchmarking | Telco and VNF services may have strict performance requirements. An objective, normalized tool to compare public and private clouds is now available to help you decide the best location for your infrastructure solutions. |
| Clearwater-Restcomm-OpenCell-Zabbix | Virtually all telecom functions can now run in the cloud. This demo shows VNF services  managed with a generic VNF manager implemented in Juju. |
| Ubuntu Core on switches | Generic switching hardware, like that found in OCP Networking, managed from one to hyperscale. Use an API to directly install, manage, and update all of your switch capabilities. |
| Expeto EPIC, vEPC | See an LTE PaaS in action. The building blocks of a modern, VNF-enabled communications platform, with an end-to-end IMS solution, for example. |
IOT Demos
Operators, device manufacturers and developers are invited to discover how they could take a center stage in this fast developing world. IOT is redefining the entire hardware industry from networking to industrial equipment, creating opportunities for service providers across a wide spectrum of verticals. Canonical's IOT offering, Ubuntu Core, has seen fast adoption among chipset vendors, OEM and developers. Most were attracted by the low operating costs associated with its strong operational and security capabilities. All became adept at its app based architecture, allowing them to offer rich, innovative services across devices. See it for yourself:
| | |
| --- | --- |
| Demo name | Details |
| Wireless networking | Showcasing a world where base stations can be entirely defined by software from network stack to antenna. |
| Fixed networking | From DSLAM to top of the rack switches, traditional networking equipment can be made much smarter to enable fast roll-out of new services. |
| Robots and Drones | Your next SIM card might be to connect a robot… with app enabled drones, remotely piloted over 4G networks for site inspection, surveillance or a number of specialists tasks. |
| Home Gateways | App enabled home gateways allow operators to offer a wealth of services without a truck roll: IOT gateway, video surveillance, in house communication … |
| Digital Signage | Digital signage are not just displaying ads and information, they serve as hotspots, beacons, count people and become interactive. |
| Verticals | From medicine to smart city, IOT is changing the shape of many verticals |
| Industrial IOT | Predictive maintenance, security, 3D printing, Ubuntu is powering manufacturing 4.0. |
Phone Demos
For the first time, the technology community will be able to try the latest Ubuntu powered devices, including the first commercial devices to offer both a full PC and a phone in one single device! Network operators can  see how Ubuntu devices can help them offer a rich branded experience to their customers. Developers and content owners can discuss the various options to bring their product to this growing ecosystem. Reduced complexity and better security also make Ubuntu devices ideal candidates for hybrid phone / PC deployments in enterprise and governments, come find out why…
| | |
| --- | --- |
| Demo name | Details |
| Aquaris M10 Ubuntu Edition | The first Ubuntu tablet and the first commercial device to offer Ubuntu's convergence feature where a mobile device can also be used as a fully featured PC. |
| China Mobile RCS services | A showcase of how operators can integrate their RCS services and content natively into a device to offer rich and differentiated user experiences. |
Drinks Reception
Join us for drinks and networking on Tuesday 23rd February at our booth (3J30, Hall 3) from 18.00 to 20.00. The event is co-sponsored by IBM Power Systems and Samsung Artik.
Book a Meeting
To discuss with our executive team how our advancements in NFV, OpenStack, IoT and Phone can solve your business challenges book a meeting today!